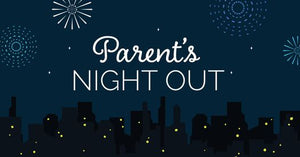 Parents' Night Out Ticket - Friday, September 22nd
During Parent's Night Out, join our friends at Parents Cooperative Preschool and Kindergarten for a night in the City! On Friday, January 13, from 6-9 PM, your Itty Bitty (ages 2-8 years) will be treated to a pizza dinner, exclusive after-hours playtime in the City, crafts, games, and a movie.
THIS EVENT REQUIRES PRE-REGISTRATION AND PRE-PAYMENT. WALK-INS ARE NOT ALLOWED.

You will receive an invitation to fill out an 'About Me' questionnaire upon your tickets being processed. This will need to be completed before the event date.
For more information about this event and our preschool program, email ParentsCooperative@gmail.com. Please note that the staff of Itty Bitty City and Parents Cooperative Preschool are not able to change diapers.
The cost is $30 per child, and additional siblings are $20 each. Spots are limited to 25 children, so purchase your ticket soon!