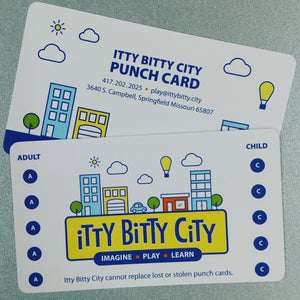 Itty Bitty City Punch Card
PLEASE NOTE: As of February 1st, 2022, punch card admission is only applicable for Weekday Admission (Monday - Thursday).

Itty Bitty City punch cards make a great gift, and are a great way to save on admission if you're not quite ready for a membership. We also have regular gift cards available.

Punch cards are available in 5 visits (5 adult punches and 5 child punches) and 10 visits (10 adult punches and 10 child punches). A 5 visit punch card saves $10 off admission and a 10 visit punch card saves $30 off admission. You can use these punches and passes in any combination you would like.